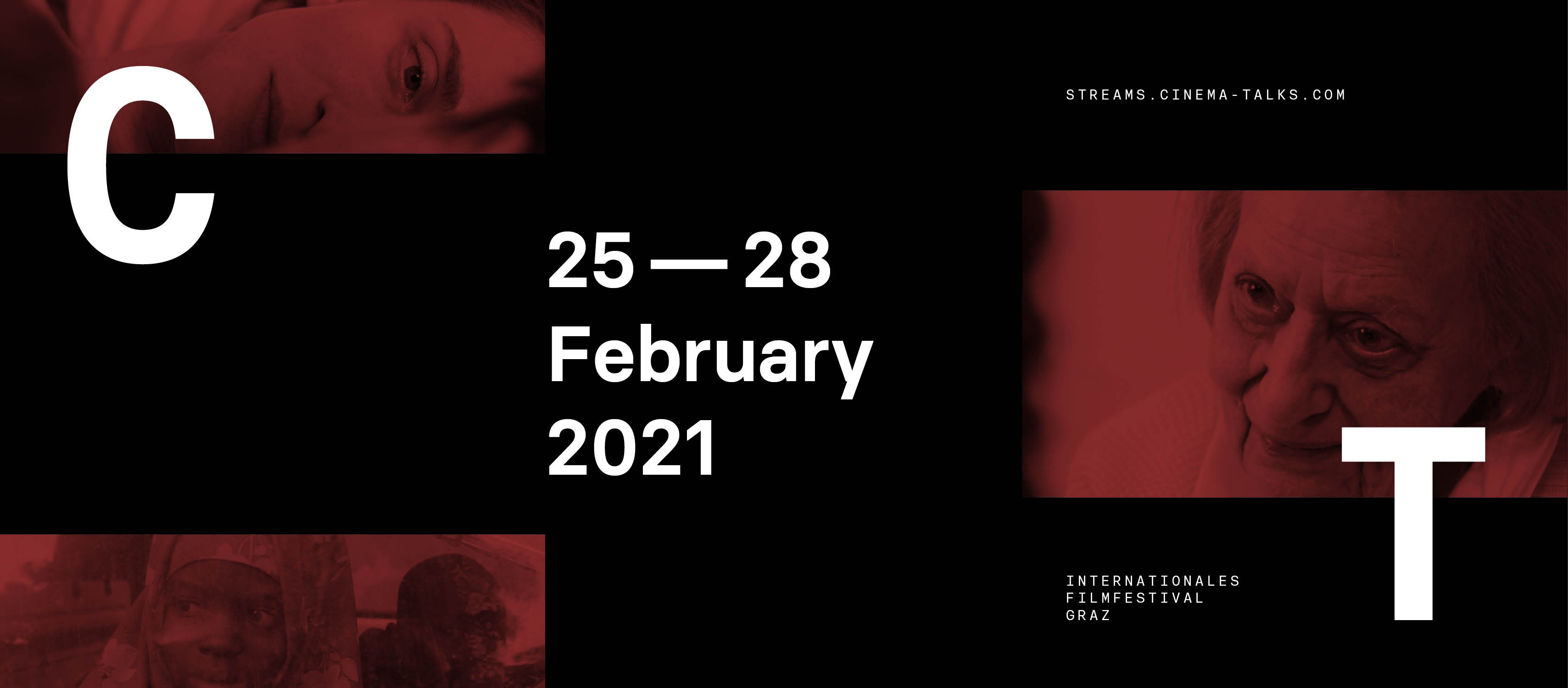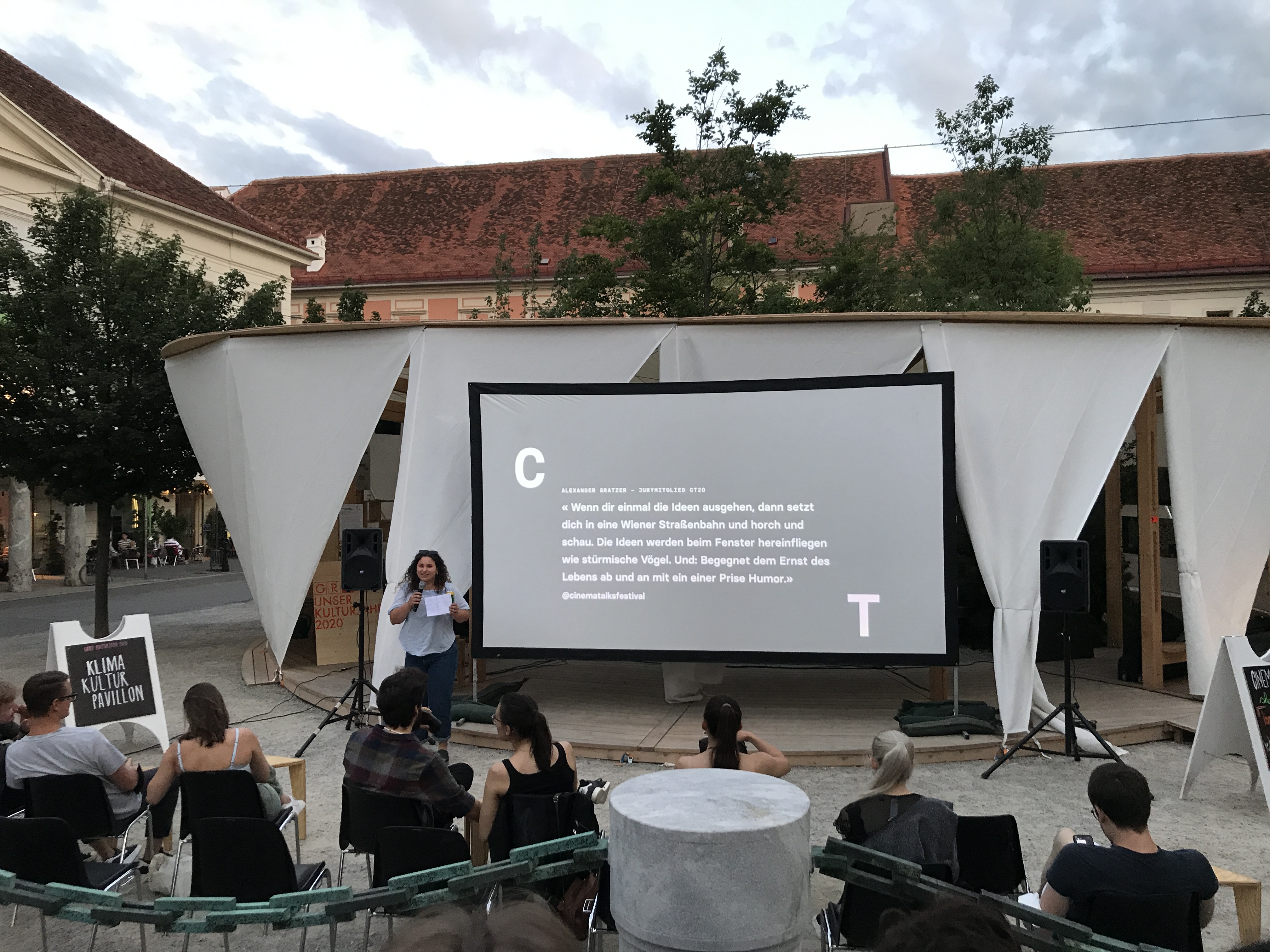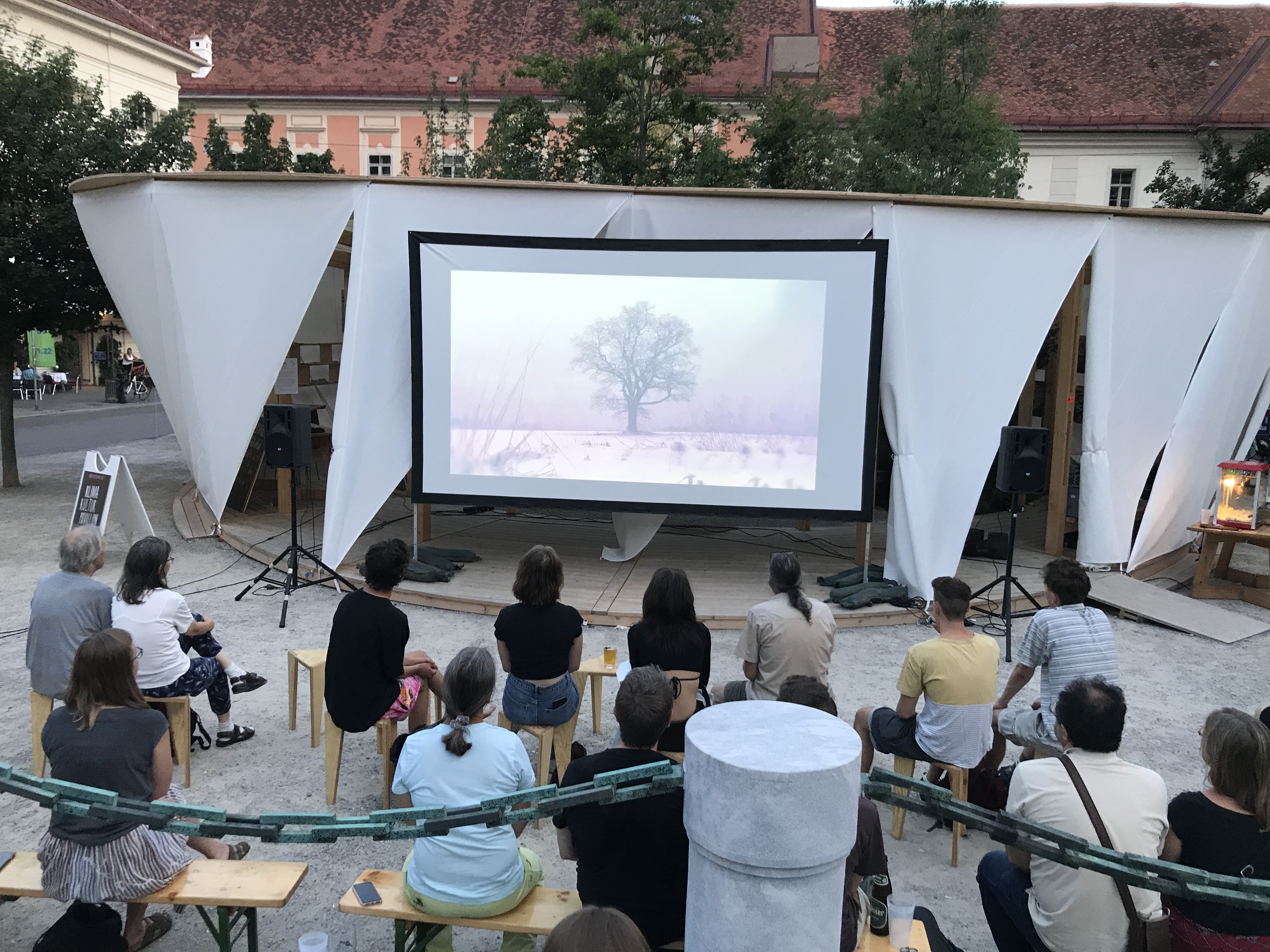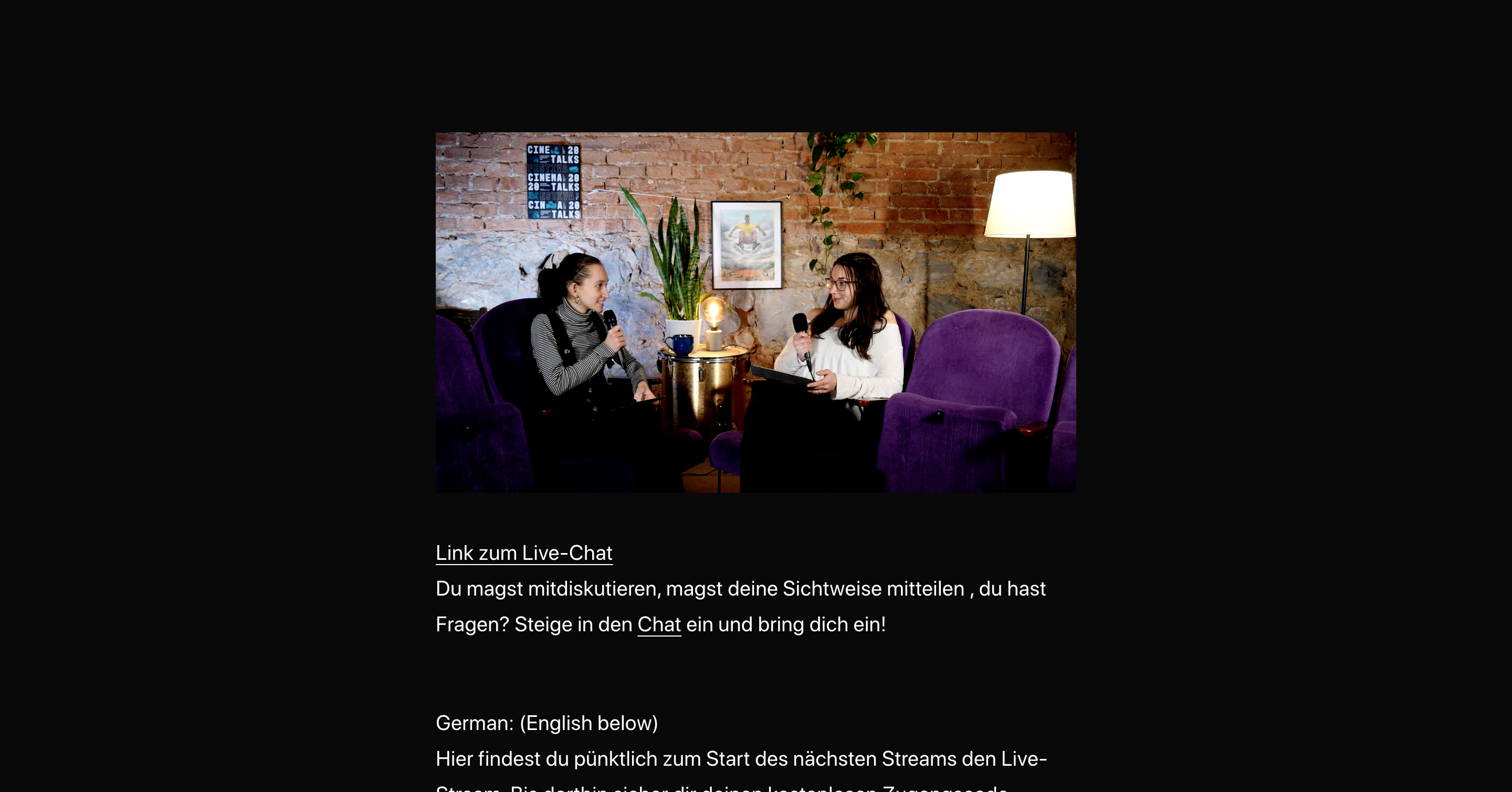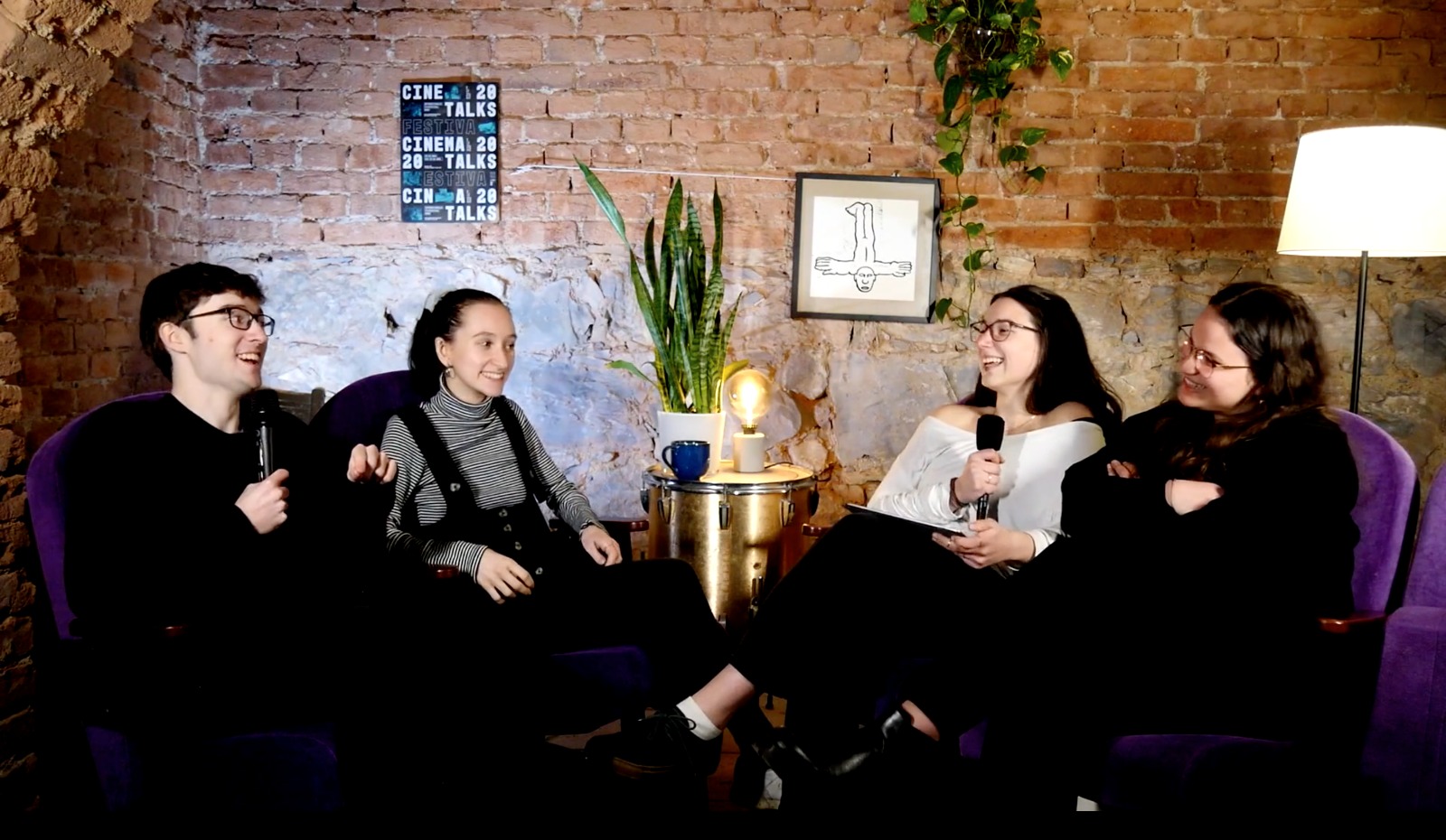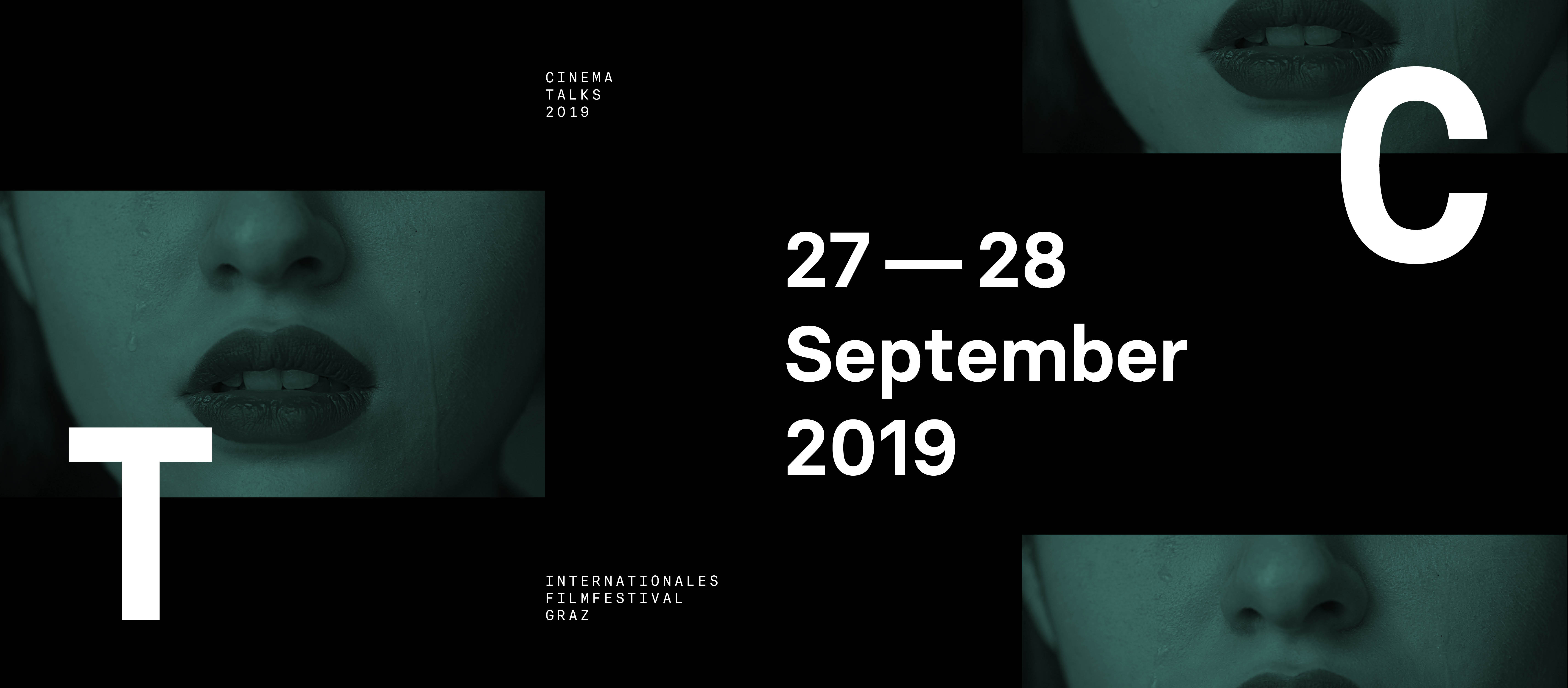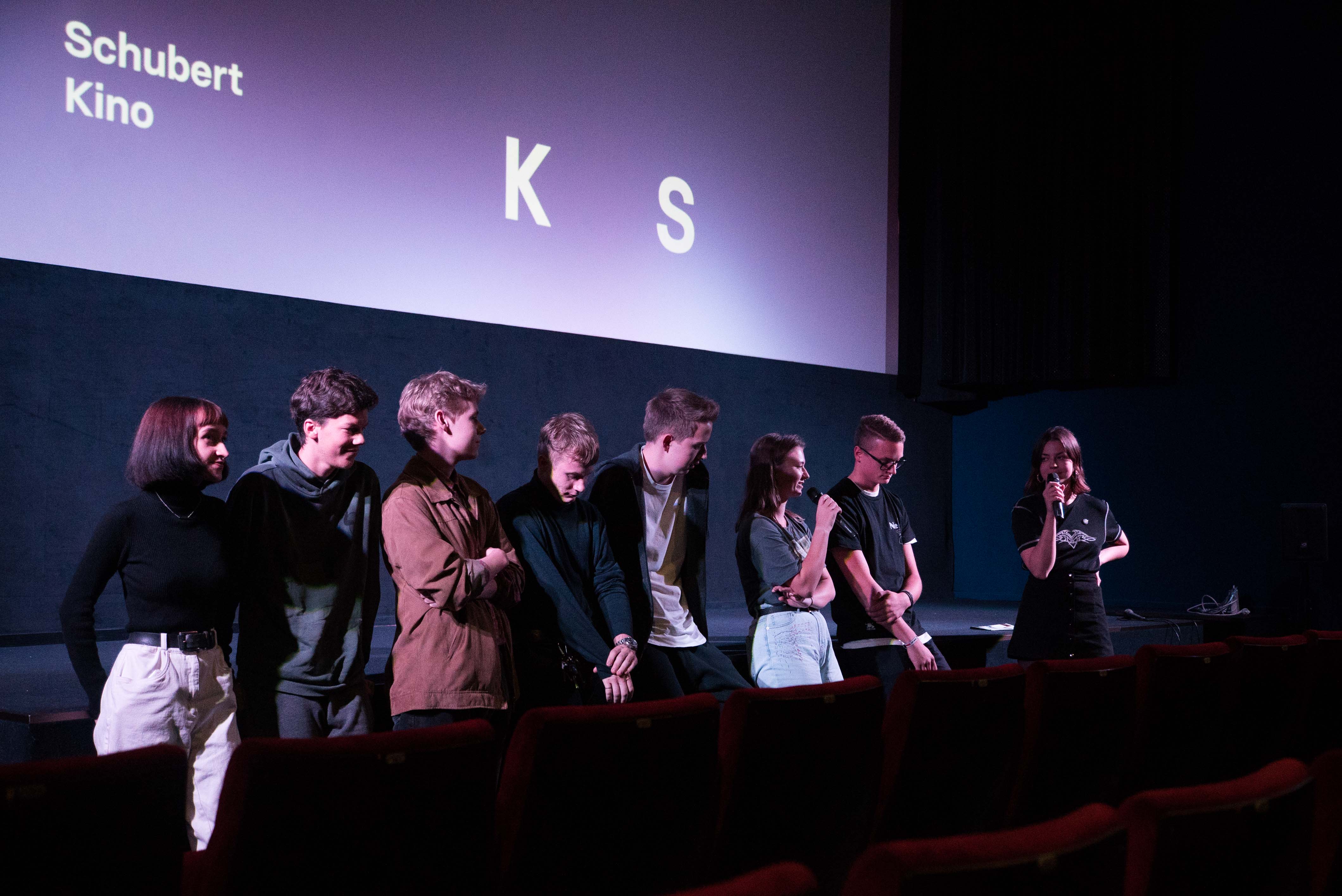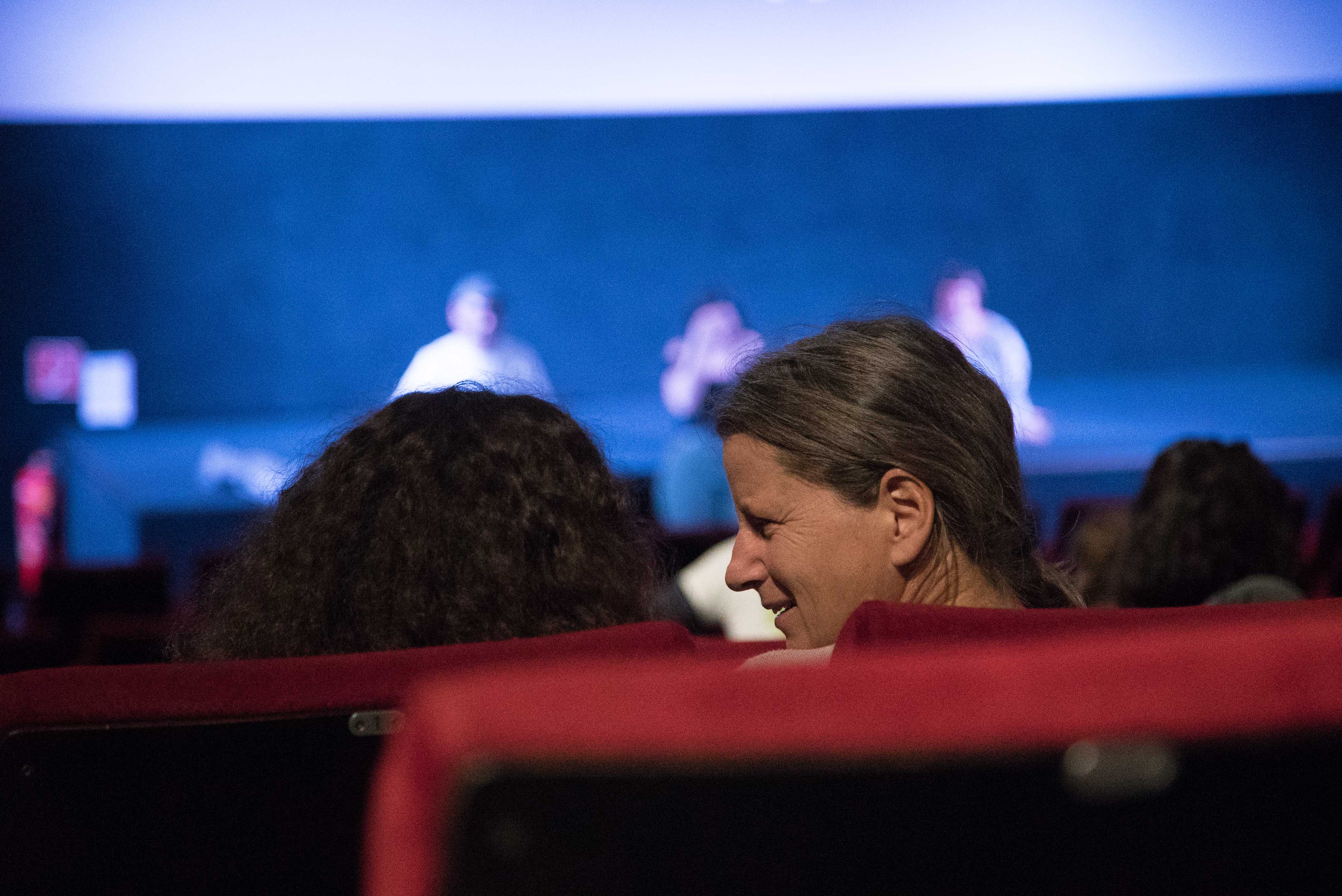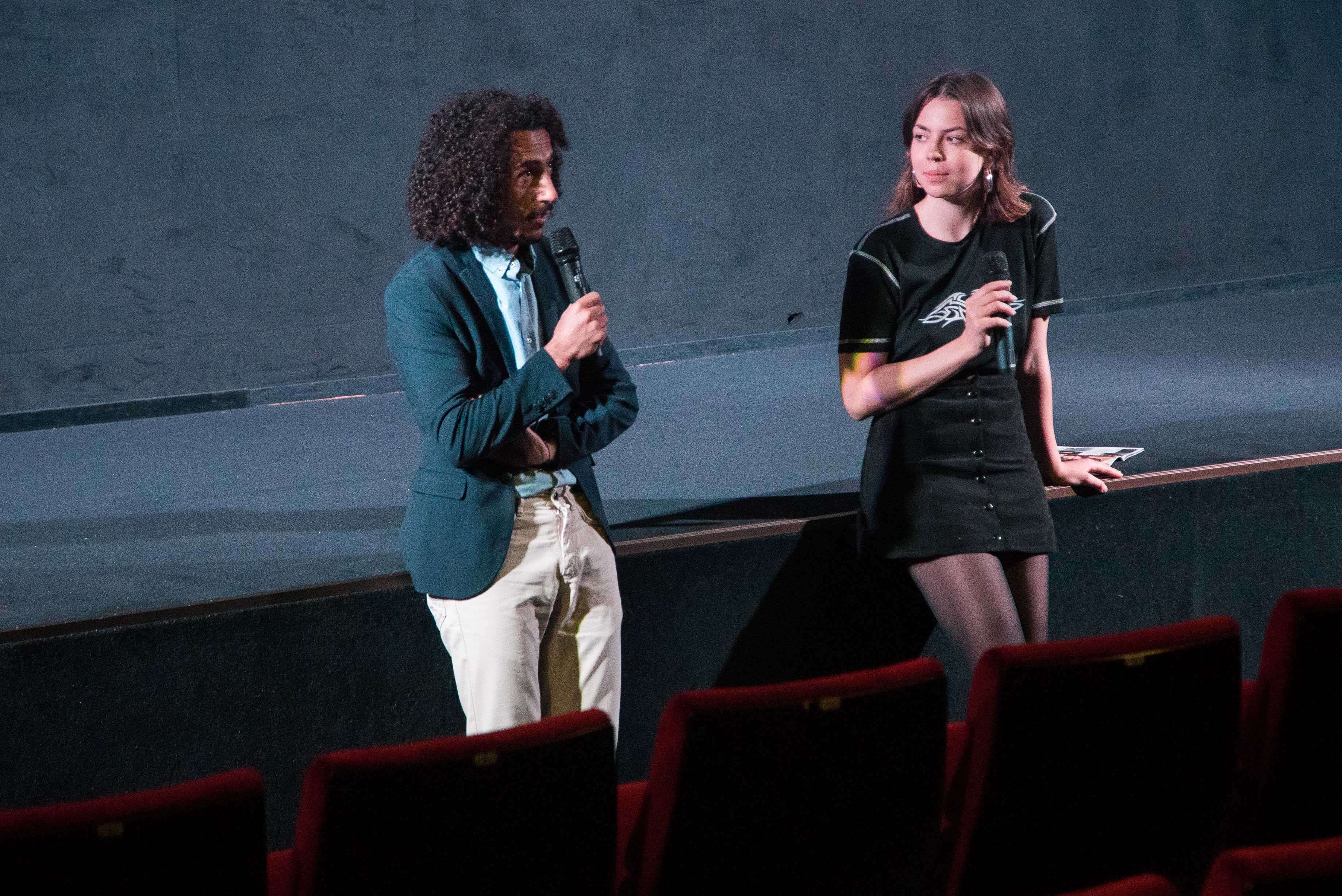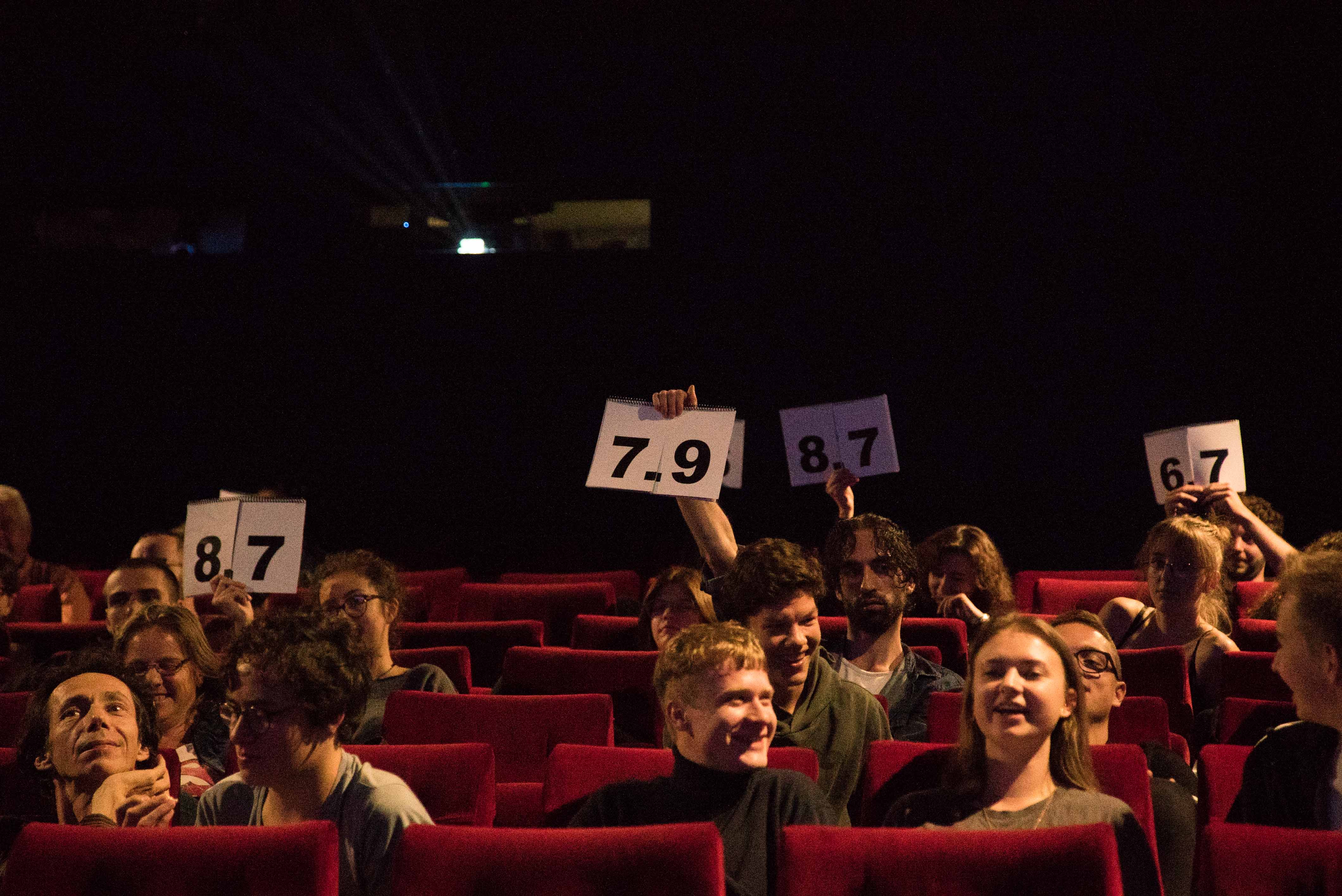 EN:
I'm one of the founders of "Cinema Talks – International Filmfestival Graz".

What ist Cinema Talks?
Cinema Talks is a young, innovative film festival which has been held annually since September 2019. National and international short films are presented – wrapped in four categories: Social, Extraordinary, Entertainment and Inspiration. Whether it's introductory poetry slams that bring the theme of the film block closer, or an art exhibition showcasing mainly young artists: Cinema Talks combines several art forms and thus creates a unique festival experience. Through interactive voting and Q&As, the audience is actively involved. The emerging conversations between the filmmakers, the artists and the audience redefine the experience in the cinema.
DE:
:cinema talks 19
Im Oktober 2018, spät in der Nacht, auf dem Weg nach Hause von einem Dreh, kam uns die naive Idee ein internationales Kurzfilmfestival in Graz auf die Beine zu stellen. Ein Jahr intensive Planung und ein engagiertes Kernteam aus vier Personen später, was es tatsächlich so weit: Cinema Talks ging von 27. – 28. September 2019 das erste Mal im Kino über die Bühne. Aus 1201 Einreichungen (246h) stellten wir ein Kurzfilmprogramm mit insgesamt 48 Filmen zusammen. Diese stammten aus 18 unterschiedlichen Ländern und gaben Einblick in weltweilt relevante Themen. Rund um das Festival gab es eine Kunstausstellung und geladene Speaker*innen, die die Themen der Filmblöcke nähergebracht haben. Wir erfreuten uns am positiven Feedback und blicken mit viel Ehrgeiz und Freude in die nächste Festivalsaison!

Weiterführende Information:
Kleine Zeitung, 25.09.2019 – "Diese Grazer Teenager stemmen ein internationales Filmfestival"
Radio Helsinki, Ganz bei Trost – 15.09.2019
:cinema talks 19 international
Mitte Februar 2020 konnte ich eine Sonderausgabe in Spanien organisieren. An zwei Abenden wurde im Theater "Sala Negra" in Logroño eine Auswahl an Filmen der Ausgabe von CT19, sowie die Premiere eines regionalen Films gezeigt. Wir freuten uns über knapp 100 Besucher*innen und positives Feedback bei unser ersten internationalen und komplett in Englisch und Spanisch abgehaltenen Ausgabe.

:cinema talks 20/21
Nach der ersten Ausgabe im Jahr 2019 (siehe weiter unten) war klar, dass das uns (und vielen anderen) ans Herz gewachsene Kurzfilmfestival weiter bestehen muss. So konnte es dann nach zweimaligen verschieben (aufgrund von COVID19) schlussendlich im Februar 2021 online über die Bühne gehen. An 4 Tagen wurden jeden Abend Filme gezeigt, diskutiert und es konnte allen Widrigkeiten zum Trotz ein Festivalflair aufgebaut werden.
Insgesamt wurden 25 Filme gezeigt, von denen 5 als Gewinner*inne gekürt wurden (4 x Jury + 1 x Publikum). Wir bedanken uns bei 1058 "Geräten" (Summe aller Vorstellungen) die uns diese 4 Tage begleitet haben. Es war ein Fest!

Weiterführende Information:
Der Grazer, 14.02.2021: Filmfestival wird jetzt gestreamt
Der Standard, 24.02.2021: Lichtblicke: Kurze Filme und Kunst durch die Scheibe
Kleine Zeitung, 26.02.2021: Vier junge Grazer stemmen zum zweiten Mal ein internationales Filmfestival

:cinema talks special 21 – Living and Climate Change
Laue Sommerabende, Popcorn und ein vielfältiges, internationales Filmprogramm. Nachdem CT20 online über die Bühne ging, freuten wir uns umso mehr im Sommer 2021 ein Open-Air Screening im Zentrum von Graz zu veranstalten. Im Rahmen des Grazer Kulturjahres 2020 und des Klima-Kultur-Pavillon am Freiheitsplatz, wurden an zwei Abenden neun Filme zum Thema "Living and Climate Change" genossen und diskutiert. Für die Filme gab es eine extra Einreiche- und Auswahlphase. Wir waren begeistert von der internationalen Beteiligung an Filmen von Indien, über Brasilien bis in die Schweiz.
Im Kernteam:
Zoe Borzi
Ines Handler
Natalie Pinter
Jonathan Steininger
Mehr Infos auf unserer Website